rechargeable hand held metal detector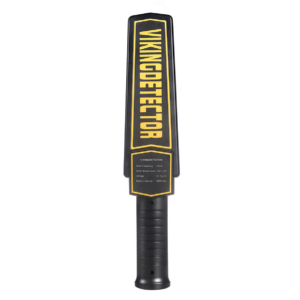 A hand held metal detector is a device that detects the presence of ferrous metals in the proximity of the user. It makes use of a magnetic field to search for metal objects and is used in a variety of industries including mining, archaeology and security. Hand held metal detectors come with an adjustable sensitivity control which allows them to be set according to their environment. The sensitivity can be turned down when there are many interfering signals such as radio waves or ambient noise. When used for security purposes, hand held metal detectors are useful in detecting weapons such as guns and knives which may otherwise be carried into restricted areas without detection by standard security checks.
General specification of hand held metal detector-high security sensitivity
1.Power control: Long press the button for 1 second to turn off the machine.
2. With 5-speed adjustment, sound and light alarm; vibration and buzzer modes; can be used even in noisy environments.
3. Tone identification: When detecting small metal targets, the ATD feature will alter the volume. However, when detecting large metal targets, the tone and volume will also change.
4. Low battery voltage indicator: If the voltage drops, an alarm sound will be heard. The green READY light ceases flashing and the red ALERT light emits a red light. Similar parameters:
5. Working frequency: 25-95 KHZ with an automatic frequency conversion function
6. Temperature of work: -20 to 45
7. Speaker, LED traffic light and alarm indicator
8. Power battery : Built-in 1800 mah mAh lithium battery;
9. Charging interface: USB Type C Interface 5V 1A
10. When charging is complete, the red light blinks and then turns green.
11. Energy-saving mode: Built-in energy-saving device automatically turns off after 15 minutes.
12. Dimensions: Length 41 cm *width 8.2 cm*height 4.41 cm
13. Product weight: net weight 360 grams
Applications of Hand held metal detector-high security sensitivity
Manufacturing plants

Correspondence in penitentiary units or special clinics

Airports and railway stations

Courts and penitentiary institutions

Sports facilities and stadiums

Security of mass events